HAY DAY – Join my Neighborhood!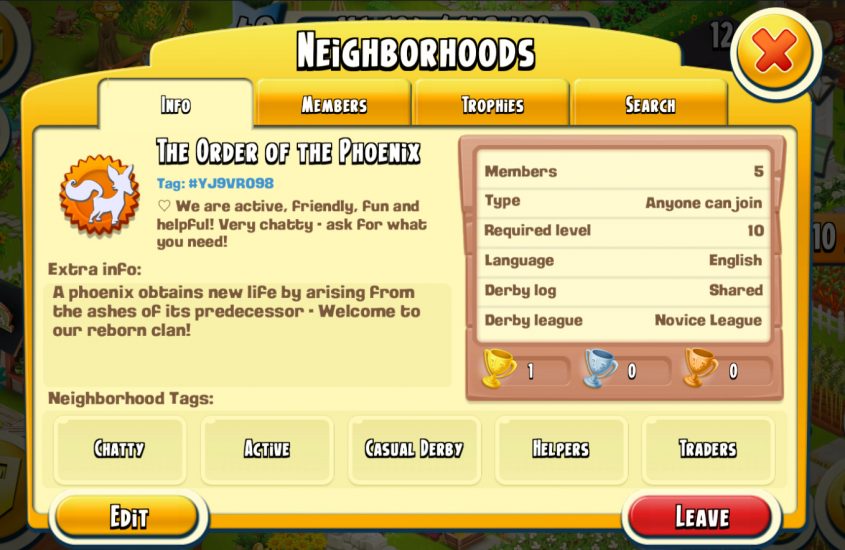 In Ancient Greek folklore, a phoenix is a long-lived bird that cyclically regenerates or is otherwise born again. Associated with the sun, a phoenix obtains new life by arising from the ashes of its predecessor.
This is a new, reborn clan, and we are looking for some new life in it!
We are active, friendly, fun and helpful! We do casual derby, but we won our first derby already with only 5 members. We will still win many more. You are NOT required to spend any gems
Our members are based in South Africa, but international players are welcome! English (or a small amount of understanding of it) is required so that we can understand you should you need help, or have any questions.
We are really relaxed, but we are looking for some more members to join. Any and all ages are welcome, and we are a respectful neighborhood.
Neighbourhood Name: The Order of The Phoenix
ID: #YJ9VR098 
Yes, I am HUGE Harry Potter fan. Its the main reason I chose this name for my second neighborhood. The Phoenix and new life fit really well with my intentions to revive my neighborhood. 
I just play casually, but some of my really awesome members would like more fun! The more the merrier, right?
I absolutely love Hay Day. I discovered it after being extremely disappointed in Farmville. I instantly fell inlove with Hay Day after downloading it! It's super fun, the graphics is amazing and the game design is fantastic. Its easy to play. I love that is not a pay-to-play. You can actually get all the cute animals, and all the decorations you want without spending money.
I play Hay Day on my Tablet, as well as on my computer using Bluestacks.
If you play Clash of Clans by Supercell as well, I also have own Level 10 Clan called Clan Foresight! 
I hope to see you there soon!